Wheat Penny Error Coins & Values
Looking for reliable information regarding Wheat Penny error coins? Well, I have put together a list of every single noted error coin released from 1909 to 1958 along with pictures and estimated values and other information.
Error coins can be worth a mint as they are more rare than the ultra rare key date coins, which boost their desirability much higher amongst collectors everywhere. Below we will go through the official Wheat Penny error coins in chronological order.
Plain 1922 D Wheat Penny Error Coin
1922 Wheat Penny: In 1922, the Denver Mint was the only mint to mint our Wheat Cents that year. A die with worn areas around the "D" which would indicate the "Denver" mint on the 1922 D Wheat Penny was worn. In a failed attempt to repair the worn die, the D was completely removed by accident, resulting in the "Plain 1922 D Wheat Penny".
There are four different types of 1922 Wheat Pennies.
1922 D
1922 Weak D
1922 No D Weak Reverse
1922 No D Strong Reverse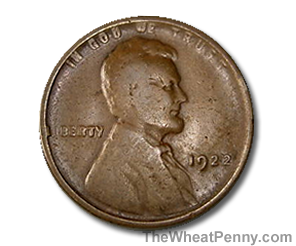 The most desirable of the 4 different types of the 1922 Wheat Pennies is the 1922 No D with a strong reverse which can fetch anywhere between $700.00 – $1,000.00.
As you may already know, in 1943, World War II was going on and so the copper previously used to mint our Wheat Pennies was needed to manufacture supplies for the war. There is not very many of the 1943 Wheat Pennies circulating in existence today and the ones that are, are expected to fetch around $100,000.00 if you could come up with one. These were struck accidently and then released into circulation. They are considered extremely rare and 2nd the rarest of all Wheat Penny error coins to the 1944 steel Wheat Penny.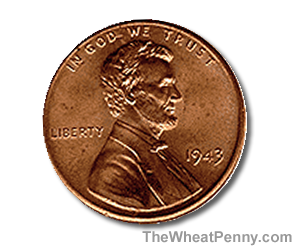 The 1943 Copper Wheat Penny error coin sold in the early 1980's for around $10,000.00 if that gives you an idea of how valuable these error pennies are. And, so 30 plus years later that figure has gone up drastically.
The 1944 Steel Wheat Penny was accidently minted with zinc coated steel just as the 1943 Wheat Pennies were. This made the rarest of all error Wheat Pennies made. These coins can fetch a serious premium.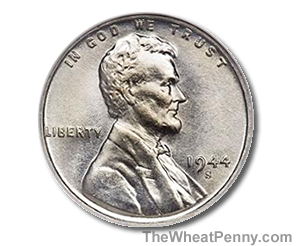 One of the rare 1944 Steel Wheat Pennies brought a mint of $30,000.00, while a mint 1944 S Steel Wheat Penny fetched $374,000.00!
The 1955 Double Die Wheat Penny error coin is the most plentiful of all Wheat Penny error coins and can bring a small fortune itself. It is often compared to the 1922 error coin in terms of desirability although it is much more common than the 1922.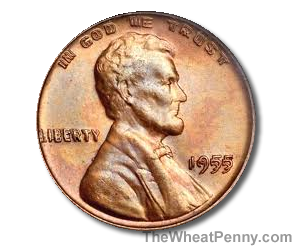 The 1955 Double Die Wheat Penny can fetch around $1,500.00 for a very fine version of the coin. In other words, one that is in exceptional shape.
The 1959 D Wheat Penny has proven to be one of the most controversial coins to mysteriously show up on the coin marketplace in years.  Many experts believe the coin to be counterfeit, without any specific reasons why.  The Secret Service on the other hand has twice authenticated the 1959 D Wheat Penny. The coin was scheduled to be sold in Ira & Larry Goldberg Coins & Collectibles, Inc. "The Pre Long Beach Auction", in September of 2002, but it was pulled from the auction at the eleventh hour when convicted forger Mark Hofmann claimed to have made the coin.  Subsequent investigation failed to confirm this claim and the coin was re-consigned to the Goldberg's "The Benson Collection Part III", February 24-25, 2003, Lot 159.  As of February 23, 2003, no major grading service had chosen to certify the coin as genuine.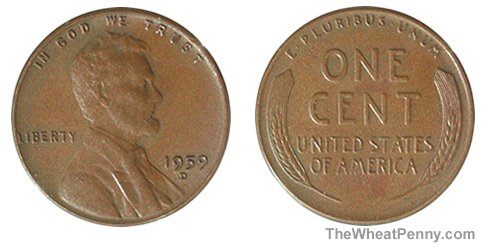 It is hard to speculate the worth of such a coin. There is only one known to exist, and it is said to be so controversial it is hard to even imagine what it would be worth. If you have one, I'd definitely get it examined and graded by a professional immediately. It could be worth thousands and thousands of dollars.